August feature for Rotary Creative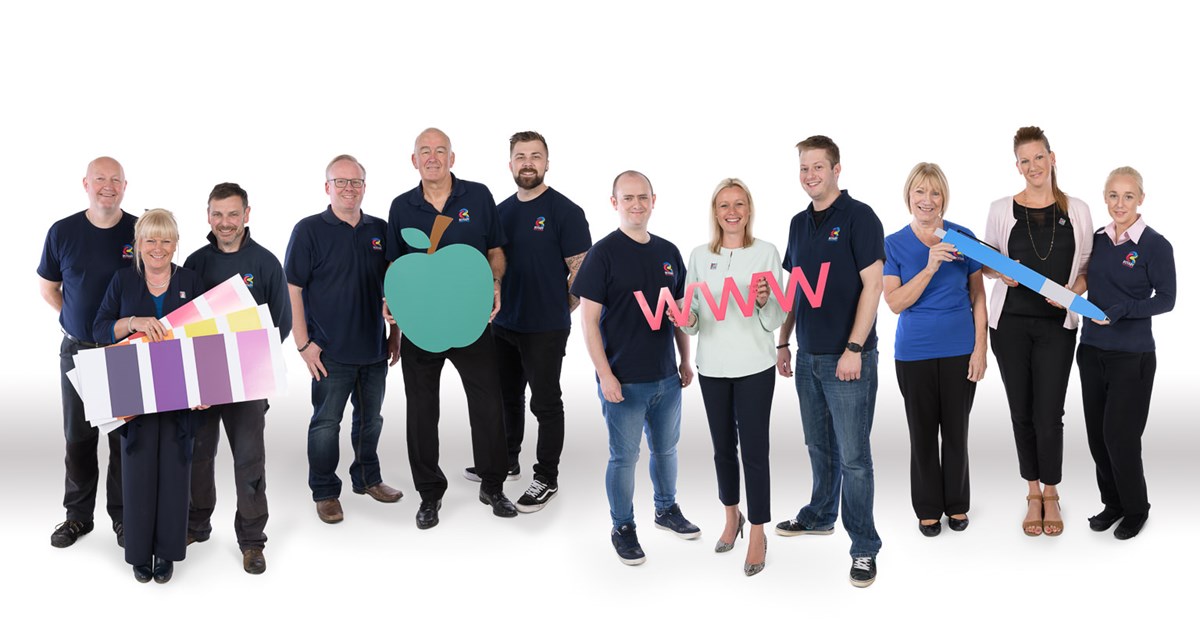 The team at the Rotary Creative Group were delighted to be one of twelve winners of the Celebrating North Worcestershire 2019 Calendar competition by saying how wonderful their Wyre Forest workplace is.  The 12 strong creative team appeared on the August page and everyone enjoyed taking part.
Here's what they said:
"It's believed you become, with who and where you choose to surround yourself. The natural beauty and inspiring motivations within North Worcestershire undoubtedly energise and form a unique foundation to our creative industry. Stamping down our ink 50 years ago, we certainly intended to remain rooted within this remarkable area."
Design and print has come of age at Rotary Creative. They are entering their 50th year in business and with the introduction of website design and digital marketing it is going from strength to strength.  One of their strong points is they sit down with their clients and listen, often someone looking in sees the whole picture from a different perspective. 
Your print and website are your shop window, if people like what they see they step inside.  There is a resurgence of businesses returning to a printed brochure that leaves a lasting impression.
Service is at the forefront of everything we do says Managing Director Teri Baron, with 40 years with the company.
"We bring the latest in design and print trends straight to our customers keeping them ahead of their competition.  We love what we do and it shows.  We are proud of what we have achieved and look ahead to see what we can adopt, adapt and impress for years to come.  Our team of creatives are young, bright and ready to bring new ideas to the table.  Clients sharing their ideas is a fantastic way of bringing all our skills together."
"If you are thinking of exhibiting, Rotary supplies everything from business cards, brochures, pull up banners and wrap around stands, they can design and produce everything you need for your brand to stand out from the crowd.  We supplied Stourport-on-Severn neighbours and sponsor of the 2019 North Worcestershire Business Awards,  Eureka Financial with pens, bags, pads and even rulers to get their brand out there.
"Being a third generation family business we know how passionate people are about what they do, their heritage and what they can achieve, but often don't know how to show it.  Our client network reaches across all professions and when we use new fonts and colours they can be seen in all kinds of guises that work, showing instantly you are on trend.
It would be good to hear about what you are doing as a local business and find out how we can help, we would love to have a "one to one" meeting to see what we can do together."
Visit Rotary creative Group website to meet their team or simply phone Teri Baron on  01299 823839
Connect with us
Stay up to date and ahead of the game with our newsletters, social media and news.