Worcestershire Cyber Forum Event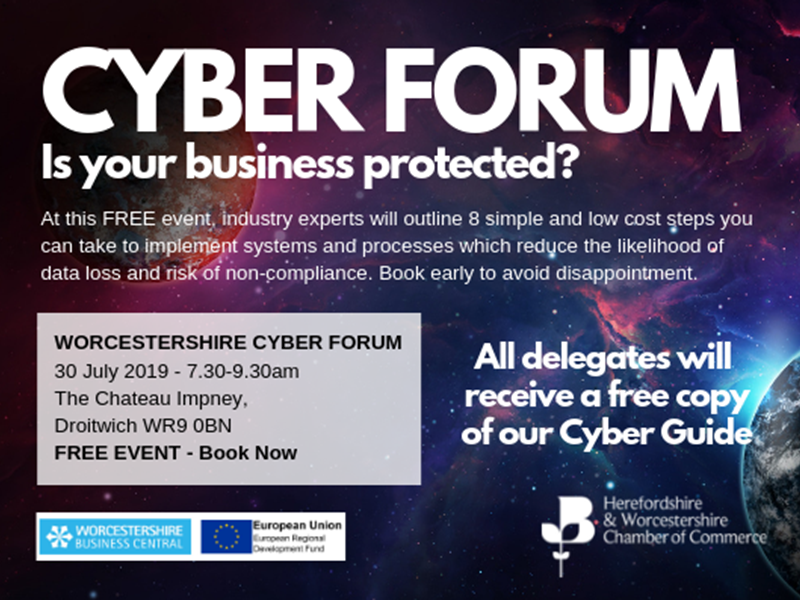 As businesses increasingly conduct the majority of their operations and information transfer in digital spaces, it has never been more important to ensure you are protected from potential cyber risks and threats. Herefordshire & Worcestershire Chamber of Commerce, alongside the Growth Hub, have worked closely with industry experts to put together a simple guide to taking the first steps to protect your business from the risks and costs associated with cyber crime.
The Chamber will launch this guide at two Cyber Forums. Industry experts will outline 8 simple and low cost steps you can take to implement systems and processes which reduce the likelihood of data loss and risk of non-compliance. This event will be particularly helpful for non IT experts, those without a Cyber Essentials accreditation who are taking the first steps on their journey to becoming cyber secure and those without any ISO quality accreditations.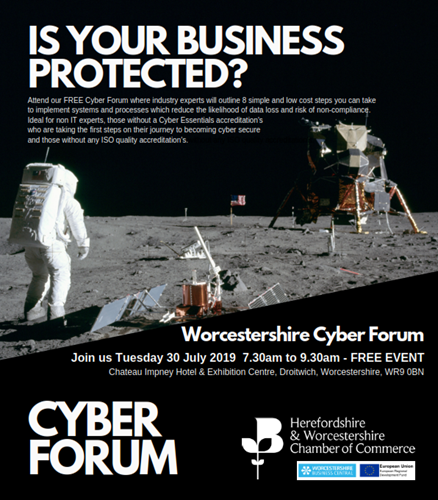 Take a look at the online version of our Cyber Guide and if you do not currently incorporate these practices into your processes and systems then this event is relevant to you.
Book your free place here. Refreshments will be provided.
Date: Tuesday 30 July 2019
Time: 7.30am - 9.30am
Venue: Chateau Impney Hotel & Exhibition Centre, Droitwich, Worcester, Worcestershire, WR9 0BN
Connect with us
Stay up to date and ahead of the game with our newsletters, social media and news.