Caroline Brady HGV Trucking Feature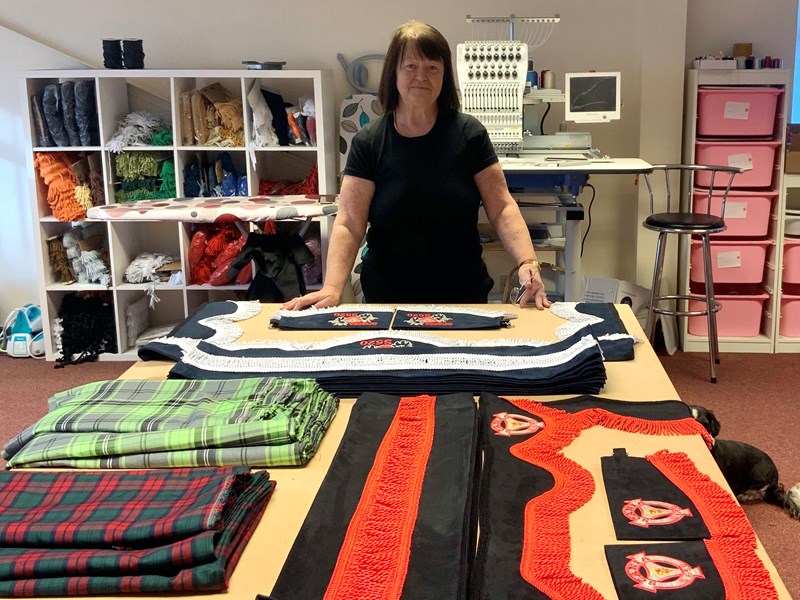 Caroline Brady HGV Truck Curtains
When a very young Caroline Brady sat sewing at her mothers knee in rural Ireland, little did she know, she would be making bespoke curtains for HGV trucks that travel around the world – from her workshop in Kidderminster.
Caroline, who operates her flourishing business from SPACE at Hoo Farm now produces more than 300 sets of handmade bespoke curtains a year to meet the individual requirements of truck drivers, far and wide. 
Her work is as individual as the drivers themselves who turn up at her door or supply photographs of their hearts desire in terms of cab interior decor.
"Truck drivers take great pride in their vehicles and this includes personalising the space in which they spend so much of their time" says Caroline. 
Over the last three years since she started the business, Caroline has incorporated football clubs, family photos, pet photography, and every fabric and colour imaginable into curtains, pelmets and tie backs.  More recently, she has expanded her range into matching duvet sets and bed covers.  As in all artisan work, the devil is in the detail, and Caroline confirms that the time spent on hand stitching, embroidery and personalised graphics is what takes the time and makes her work high in demand.  Her marketing is done largely by word of mouth and through her Facebook page @hgvtruckcurtains
"Currently, the favourite fabric is Dutch Suede" says Caroline.  It has a luxurious look and feel and comes in lots of colours and is great for privacy and retaining heat."
As the work flows in, Caroline is planning to take on an apprentice when the time is right. She is also investing in the latest digital technology so she can digitise and incorporate images supplied by truck drivers into her work.
Working from her spacious workshop (94 sqm) at SPACE Hoo Farm, Caroline has the option of moving to a larger studio when she needs to.
Caroline loves that her business "gives me the freedom of independance and being as creative as I want to be".
For more information and to get in contact with Caroline, email: hgvtruckcurtains@jayoo.com
SPACE Hoo Farm is managed by Wyre Forest District Council as a flexible working space for start up and growing businesses. 
Space provides nearly 9,000 sq ft of flexible workspace for businesses to start, develop and grow.  
'Space' is located at Hoo Farm Industrial Estate Kidderminster
22 flexible workshop and office spaces
Designed for new and growing businesses - own workspace, shared meeting area, kitchen and toilet facilities
Easy in - easy out terms
Choice of workspaces to suit individual business needs
Two week notice period and a maximum lease length of three years
Start up businesses get a 50% reduction in rent in year 1 and a 25% reduction in year 2
Access to business support, advice and funding
Perfect for tradespeople, production units, craft workshops, light manufacturing, and office users
Container storage space on site from £75 per month
On-site car parking
Free wi-fi
For workspace availability and more details about SPACE Hoo Farm visit the website.
get in touch
NWedR
0845 601 5953
If you have a specific enquiry you can contact one of the team.