Making a Difference Together

We all know how important it is to play our part in helping to clean up our environment and is why the Jerroms Bromsgrove Office is committed to reducing our environmental impact and improve our environmental performance. We have already started to successfully adopt eco-friendly and sustainable business practices, and view this as an essential part of our business operations. We have introduced and invested in several measures that will not only help us in our journey to reduce our carbon footprint but also save us money.
We installed solar panels as we knew that in the long term this would go a long way in helping us achieve our sustainability mission. So far, we have reduced the amount of energy we pull from the grid by 58% - and this is only going to get better!
We also installed an electric vehicle charging point on site. Changing to an electric vehicle offers significant benefits – but not just for the environment.
With these two initiatives alone, we estimate a payback period of around 4 – 5 years, but with energy prices constantly on the rise, we may well achieve this much sooner.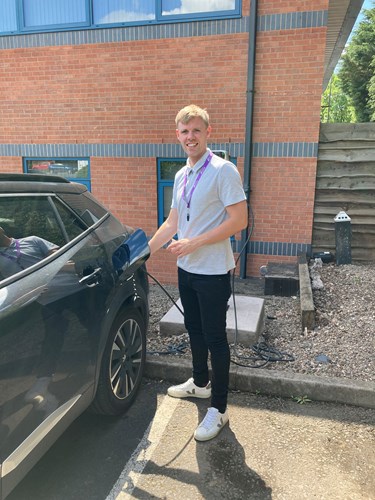 Tom May using the new electric vehicle charging point.
We also formed a "Green Team" where we get together to discuss other ideas of how we can help the environment. From home growing competitions to reducing plastic waste and improving our recycling, we're really enjoying helping to make a difference to our environment.
We've also partnered with local community initiative Keep Bromsgrove Beautiful to organise regular litter picks at lunchtimes.
So yes, we've had a busy year and we're only just getting started!
We would be delighted to share more details on the initiatives we have undertaken so far, explain ways of increasing your company's financial efficiency in a sustainable manner, how to take advantage of the many environmental and sustainability grants and support schemes available to local businesses and how to benefit from tax saving schemes and incentives all designed to help you become more environmentally friendly.
By adopting small changes and working together, we can make a difference.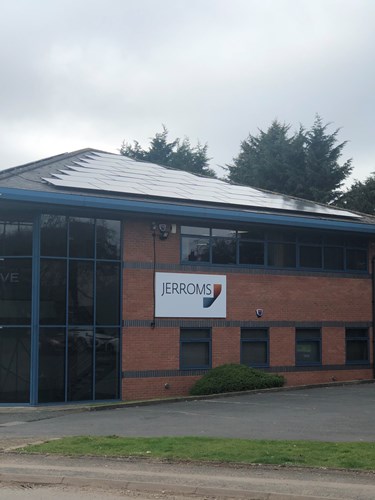 Jerroms Bromsgrove office
get in touch
NWedR
0845 601 5953
If you have a specific enquiry you can contact one of the team.