Town Hall transformation plans submitted to Wyre Forest District Council

Kidderminster Town Council has submitted a planning and Listed Building Application for the transformation of Kidderminster Town Hall. The plans reflect the proposals publicly consulted on earlier this year, incorporating many of the improvements suggested by those that commented upon them.
Councillor David Ross, Leader of Kidderminster Town Council said,
"The transformation of the Town Hall and the enclosure of the Courtyard will be a game changer for Kidderminster. It will create a regional centre for arts, entertainment, culture and education for everyone to enjoy. The new Courtyard will be a place where people can meet informally throughout the week to have a drink or something to eat or join an activity. The Town Hall will not just be a place to attend a concert or event but be at the heart of the community."
Peter White, Project Manager added,
"When completed, the Music Room will have a superb 'dynamic acoustic' and sound-lighting, enabling it to provide audiences a fantastic experience for the widest range of musical, dramatic and spoken word events, making it the go-to entertainment venue in the region."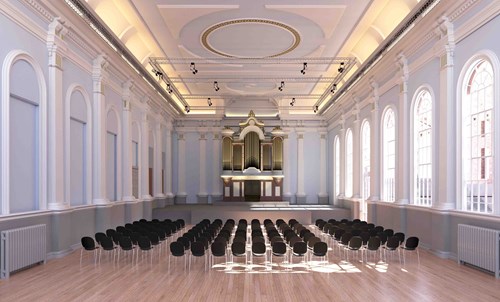 Proposed music hall 
Councillor Helen Dyke, Leader of Wyre Forest District Council and Cabinet Member for Economic Regeneration, Planning and Localism said,
"It's great to see this planning application come forward. It is one of three major Kidderminster projects totalling £17.9 million supported through the Government's Levelling Up Fund.
"We look forward to working with Kidderminster Town Council to realise the ambitious and exciting transformation of Kidderminster Town Hall which has been a historic feature of the town for so many years."
The planning application is now live on Wyre Forest District Council's Planning Portal  https://planningpa.wyreforestdc.gov.uk/online-applications/ Reference 22/0541/FUL.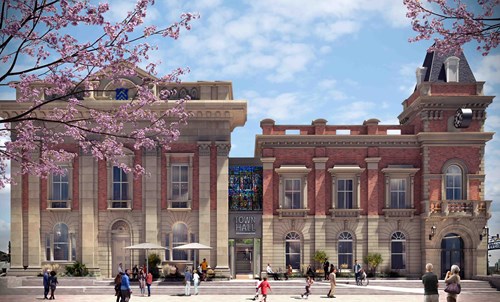 Proposed entrance to Kidderminster Town Hall 
get in touch
NWedR
0845 601 5953
If you have a specific enquiry you can contact one of the team.